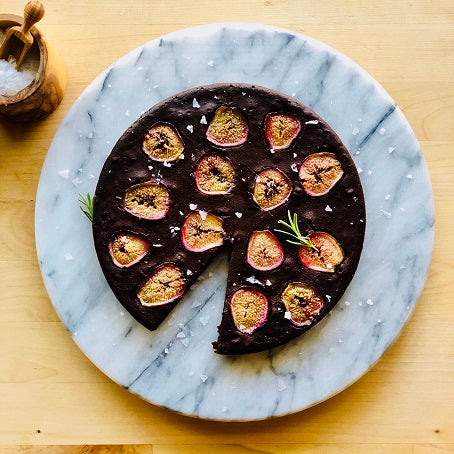 Fig & Rosemary Olive Oil Brownies
Ingredients:
4 tbsp, sugar
4 tbsp, brown sugar
3/4 cup, milk
5 1⁄2 tbsp, il Fustino Rosemary Olive Oil
2/3 cup, cocoa powder
2/3 cup, all-purpose flour
1⁄4 tsp, salt
1⁄4 tsp, baking powder
3 1⁄2 tsp, cornstarch
2 fresh figs
A hefty pinch of flaky sea salt
Directions:
Preheat oven to 325 degrees Fahrenheit.
Grease and flour 8 inch round spring form pan and set aside.
In a mixing bowl combine the sugar, brown sugar, milk and il Fustino Rosemary Olive Oil. Stir until a thick paste forms. Set aside.
In another mixing bowl combine the cocoa powder, all-purpose flour, salt, baking powder and cornstarch.
Slowly mix dry ingredients into the sugar mixture.
Pour batter into the spring form pan.
Gently slice the figs and lay over the top of the batter.
Bake for 16 minutes. The brownie will look fudgey when you take it out of the oven but allow to cool to firm up.
Sprinkle with a pinch of flaky sea salt.
Let cool completely and enjoy!