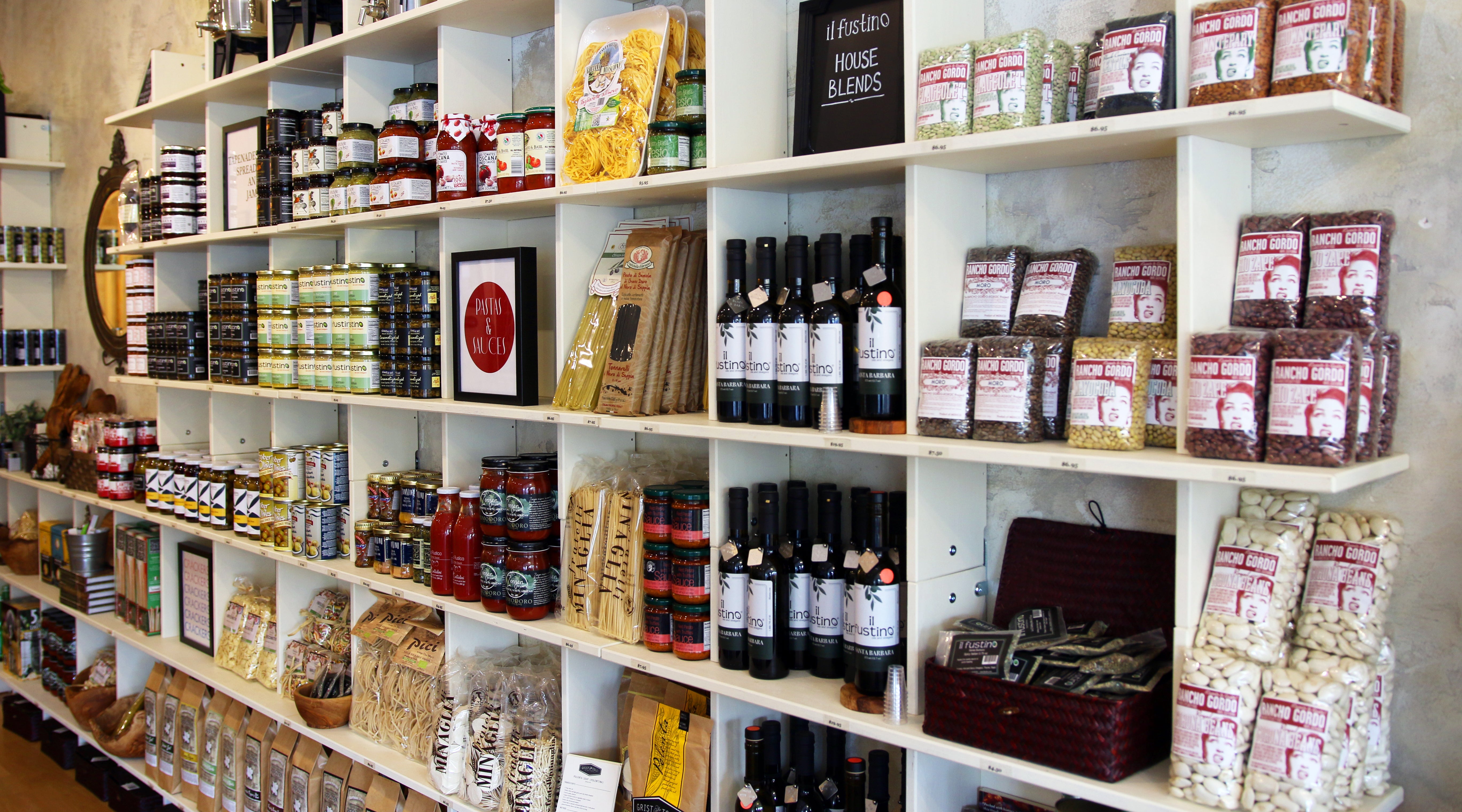 ABOUT IL FUSTINO
Olive Oils & Vinegars - On Tap!
About


il Fustino in Italian means "the tank" hence our store name. A fustino is a specialized, stainless steel container used to dispense oils, vinegars, and wines. il Fustino greets you with a vista of these gleaming tanks crafted in Italy to our specifications. Old world purveyors of olive oil and vinegar in the Mediterranean basin have been sampling and bottling from bulk containers for centuries, because their customers insist on trying before buying and we couldn't agree more. Selecting the right oil or vinegar is a personal sensory experience.  We want you to taste from the tank; it is only through this experience that you will discover a new world of freshness and flavor. Our knowledgeable staff will happily guide you through your tasting journey. 

We offer only the highest quality, best tasting extra virgin, cold pressed olive oils in the region. Our award winning flavored olive oils are made by crushing the fruit or herbs right along with the olives, this process produces natural and intense flavored oils. Our flavored vinegars are diverse and incredible. Our various specialty oils are interesting and unusual. In addition, we also offer tapenades, bruschettas, dips, dukkah, pastas, flatbreads, olives and spices. You can bring in your own bottle or use one of our previously purchased bottles and we will fill it for you at a discounted price. Our custom design, classic approach and hand crafted packaging offer the highest quality and elegance in gift giving.
Holidays that we are closed:
Memorial Day
4th of July
Labor Day
Thanksgiving
Day after Thanksgiving
Christmas Eve (closed at 2:00 PM)
Christmas
Day after Christmas
New Years Day

 

Our San Roque store is located in Santa Barbara on State Street near the San Roque post office and Gelsons supermarket. Next door to Skin Deep. 

Come in for free tastings of all our great olive oils and vinegars.


The only way to buy
When you make your selection, we will bottle it for you on the spot - you get exactly what you tasted - the freshest product available. Knowing you can purchase oil or vinegar this way, you will never buy again without tasting it first.
Taste
Like wine, tasting olive oil or Balsamic vinegar requires some technique to stimulate all the senses. Read about Tasting.
When "Extra Virgin" isn't.... Read about what Extra Virgin means.
Unlike wine, olive oil does not improve with age - it is best when young and should be discarded if over a year old. Read How to Store Olive Oil.
The il Fustino Difference
You can spend a lot for a great oil or vinegar at a high-end store, but are you sure you are getting the freshest product possible? Unlikely. How long has that $30 bottle of oil sat on the shelf? Who knows?
Olive oils reach their peak after 3 months; after that it is all down hill. No oil should be kept more than a year. At il Fustino you are guaranteed to get the freshest oil and vinegars possible. We buy direct from growers and suppliers and we keep small inventories. All our products are stored air-tight, light-tight tanks and are bottled on order. Because we sell in volume and only sell oils and vinegars, you can be sure you are getting the best.
Our Name
il Fustino means "the tank" in Italian. A fustino is a special, imported, stainless steel container used to dispense oils, vinegars, and wines. Our store is based on an old concept. In the Mediterranean basin, specialty olive oil stores, for centuries, been sampling and bottling from bulk containers because customers insist on trying before buying. It makes so much sense - and is such fun. Enjoy your time at il Fustino. Learn as much as you wish about these wonderful products.