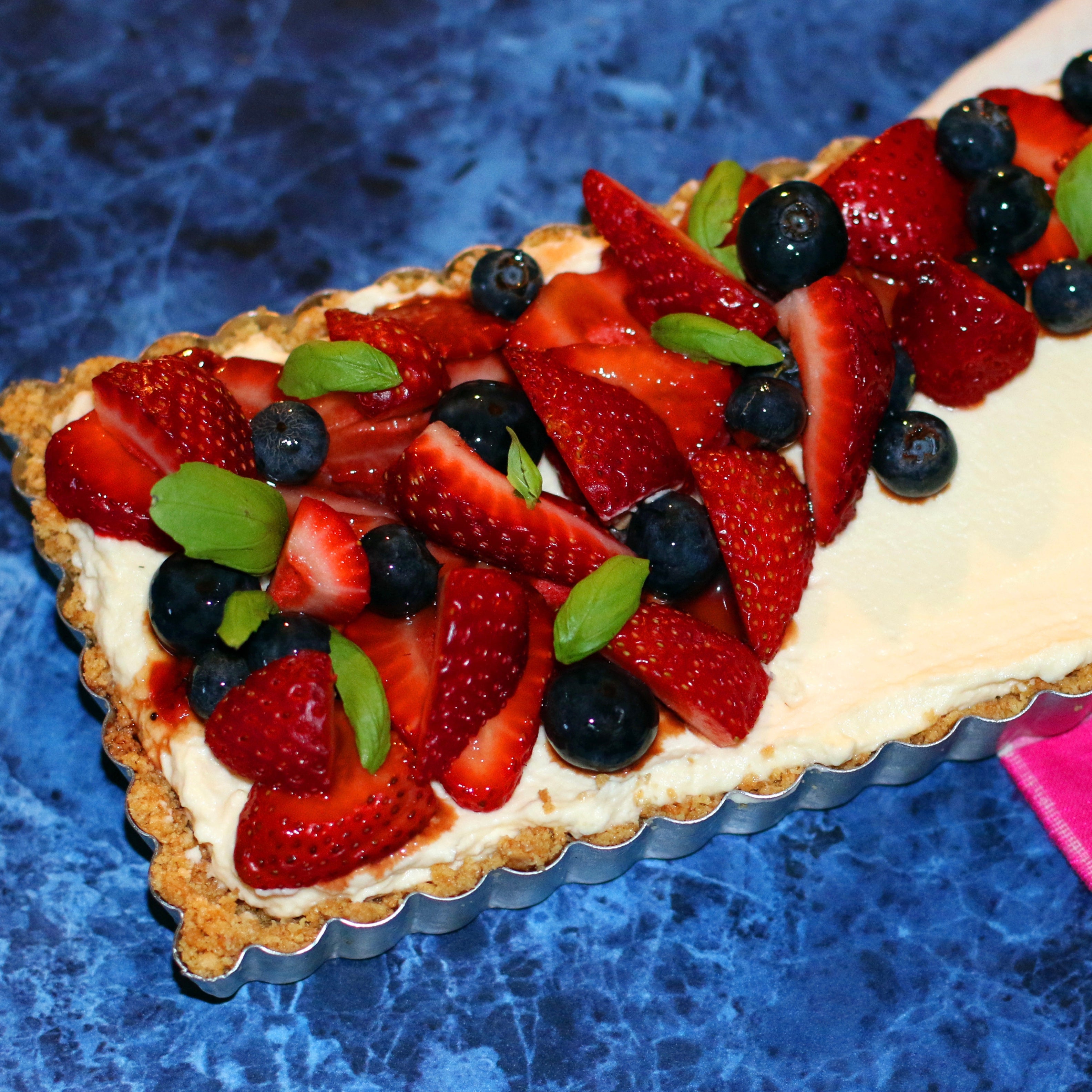 Marscapone Tart with Balsamic Marinated Fruit
Servings: 6-8
For the crust:
1/3 cup, brown sugar
2 cups, graham cracker crumbs
1/4 cup + 1 tbsp, il Fustino Arbosano Olive Oil
For the filling:
8 ounces, Marscapone – softened to room temperature
3 tbsp, brown sugar
3 tbsp, San Marcos Farms Wildflower Honey
1 cup, heavy whipping cream
For the topping:
1 1/2 cups, strawberries – rinsed and sliced
1/2 cup, blueberries – rinsed and patted dry
4 tbsp, il Fustino 25 Barrel-Aged Balsamic
Directions:

For the crust:
Mix all of the crust ingredients in a mixing bowl until well combined.
Press mixture into a greased tart pan. (We used a 13 X 4-inch fluted tart pan but a 9-inch round tart pan would work as well.)
Let mixture cool and set in refrigerator while preparing the filling.

For the filling:
In a large bowl, mix together the marscapone, sugar and honey with a hand mixer until smooth.
In a separate bowl, whip the heavy cream on high until stiff peaks form, about 3 minutes.
Fold the whipped cream into the marscapone mixture in three parts.
Add the filling to the crust and spread the filling until top is smooth.
Let filling firm up in the refrigerator for 3 hours or until firm. For a stiffer texture allow to firm up in the freezer for 1 hour.
For the topping:
30 minutes before serving, prepare the fruit topping.
In a small bowl combine sliced fruit with the aged balsamic and stir until fruit is evenly coated.
Let sit and marinate until ready to serve.
Pour fruit mixture over the top of the tart, slice and serve. Enjoy!