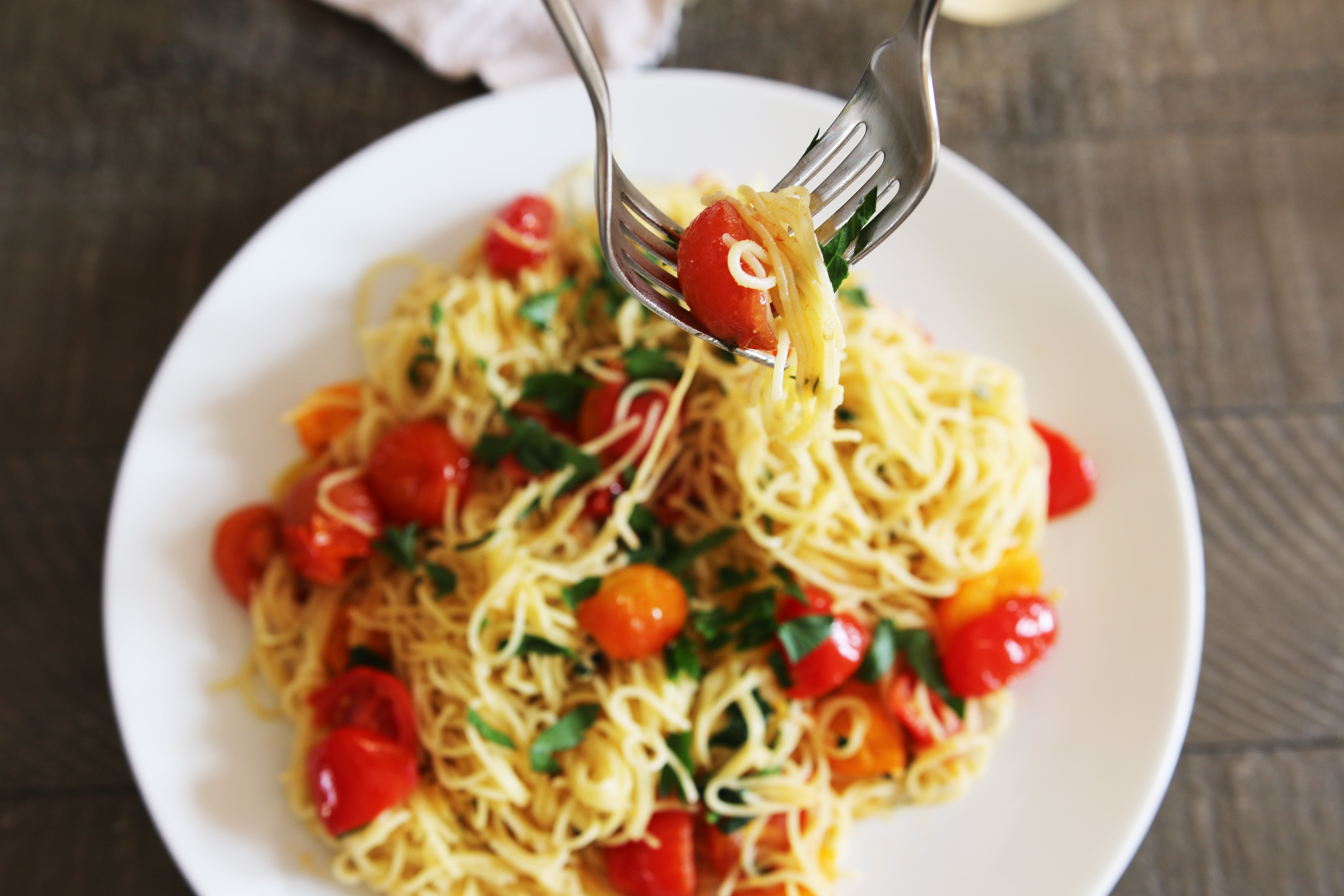 Capellini with Fresh Tomato Sauce
Ingredients:
3 tablespoons, kosher salt
1/2 cup, il Fustino Taggiasca Extra Virgin Olive Oil -plus more for serving
3 cloves, garlic –

 

minced
2 pints, cherry tomatoes
1/2 teaspoon, fresh cracked pepper
1/4 teaspoon, salt
3/4 pound, capellini pasta
3/4 cup, freshly grated Parmesan cheese
1 bunch, flat-leaf parsley
1 tbsp, oregano buds
 Directions:
Bring a large pot of water to a boil and add the kosher salt.
Heat the EVOO in a saute pan.
While oil is heating slice all the tomatoes in half length-wise. Set aside.
Once oil is heated, lower heat to medium-low and add minced garlic, let cook until fragrant.
Add sliced tomatoes to the warm oil and let cook for 5 to 7 minutes.
Stir occasionally but be careful not to completely crush the tomatoes.
Season with salt and pepper.
While sauce is coming together, add the capellini to the boiling water and cook per package instructions.
Once pasta is finished cooking, reserve 1/2 cup of the cooking water and drain the pasta. Transfer cooked pasta to a large bowl.
Pour sauce and grated Parmesan over the pasta and toss to incorporate, add reserved pasta cooking water until pasta is coated and shiny.
Remove the leaves from the parsley and thinly slice.
Sprinkle half of the parsley and gently crush the oregano buds over the pasta and fold in to incorporate.
Transfer pasta to serving bowls and garnish with more parsley and a drizzle of EVOO. Enjoy!