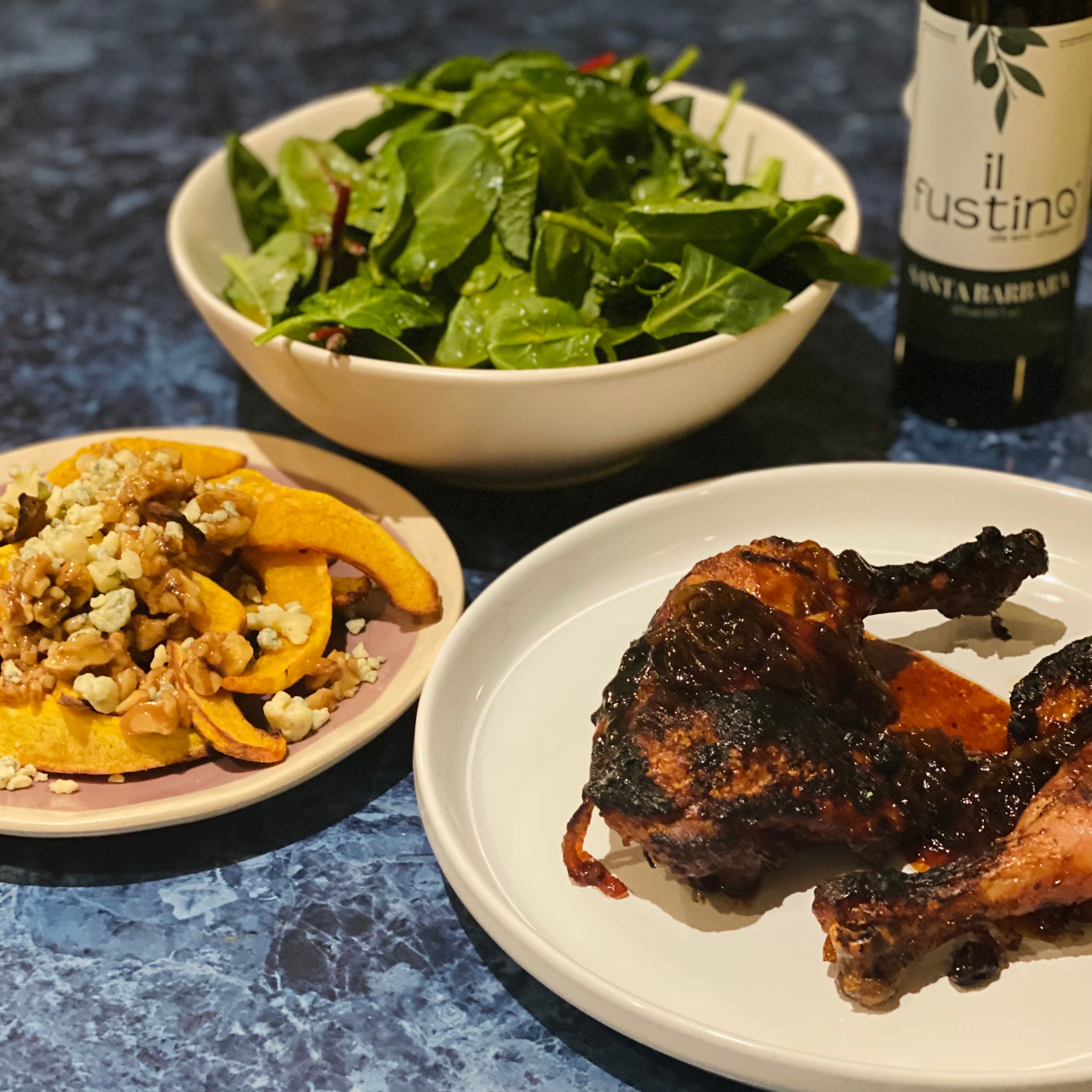 Champagne Balsamic Braised Chicken
Servings: 2
Ingredients:
2, chicken leg quarters (bone-in thigh and leg connected – We purchased ours at Whole Foods)
1/2 tablespoon, kosher salt
1 tablespoon, il Fustino Mission EVOO
1/2, small yellow onion
1, cinnamon stick
1/2 teaspoon, ground ginger
1/2 cup, chicken stock
1/2 cup, il Fustino Champagne Balsamic
1 tablespoon, soy sauce
3 tablespoons, Mojave Gold vine-dried Raisins
Directions:
Pat chicken quarters dry and season with kosher salt on both sides.
Warm EVOO in a heavy bottomed pan (we used a medium-sized dutch oven) over medium heat, add seasoned chicken skin side down and cook until skin is golden brown, about 6 minutes, flip and repeat on the other side of the chicken. Remove chicken from the pan and let rest skin side up.
While chicken is cooking, whisk together the chicken stock, balsamic, soy sauce and ground ginger. Add the cinnamon stick and the raisins. Set aside.
Thinly slice the onion and add to the pan that was used to cook the chicken. Saute until onions begin to go translucent, about 4 minutes.
Pour the balsamic mixture over the onions, stir to coat.
Add the chicken back to the pan, skin side up.
Let liquid surrounding the chicken come to a light boil and reduce heat to low and let simmer covered for 45 minutes or until chicken joint are tender and pull apart easily.
Plate chicken and spoon balsamic glaze and onions over the top.
Enjoy!