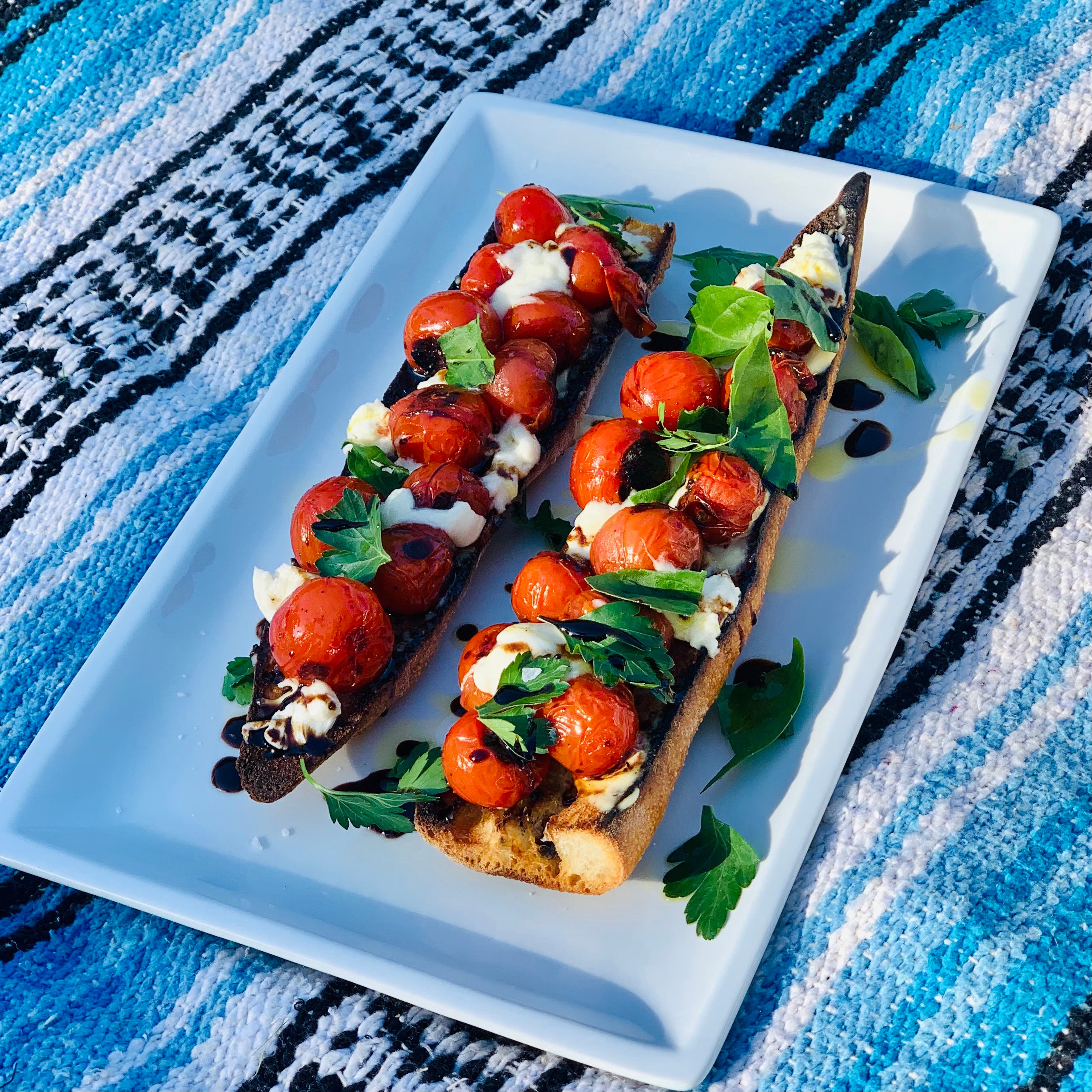 Charred Caprese Open-Faced Sandwich with Basil & Aged Balsamic Dressing
Ingredients:
3 tbsp, mayonnaise
1 tsp, Dijon mustard
1 tbsp, il Fustino Lemon Olive Oil
salt
1, shallot
1, garlic clove
3 tbsp, il Fustino Cabernet Red Wine Vinegar
1/2 baguette
il Fustino Garlic Olive Oil
2 tbsp, il Fustino Mission EVOO
3 cups, cherry tomatoes
pepper
1 cup, basil leaves
1/2 cup, parley
4 ounces, fresh mozzarella
crushed red chili flakes
il Fustino Basil Olive Oil
il Fustino Aged Balsamic
Directions: 
In a small bowl, combine the mayonnaise, Dijon, and lemon olive oil, season with salt. Set aside for assembly.
In another small bowl, combine the sliced shallot, garlic and vinegar. Toss and season with salt. Let sit for 10 minutes and then drain, saving the vinegar for later.
Slice the baguette in half and coat in Garlic olive oil, broil until lightly charred (about 2 minutes). Sprinkle with a pinch of salt and let cool.
Heat a skillet over medium high and add 2 tbsp Mission EVOO and and tomatoes. Cook until lightly charred, continuing to move the tomatoes around as they cook. Add the tomatoes to the bowl with reserved vinegar from the shallots. Season with salt and pepper to taste. Let cool slightly. Once cooled add the basil and parsley.
Spread both halves of the baguette with the mayonnaise mixture. Top with torn mozzarella, tomato salad mixture and garnish with red pepper flakes.
Enjoy!