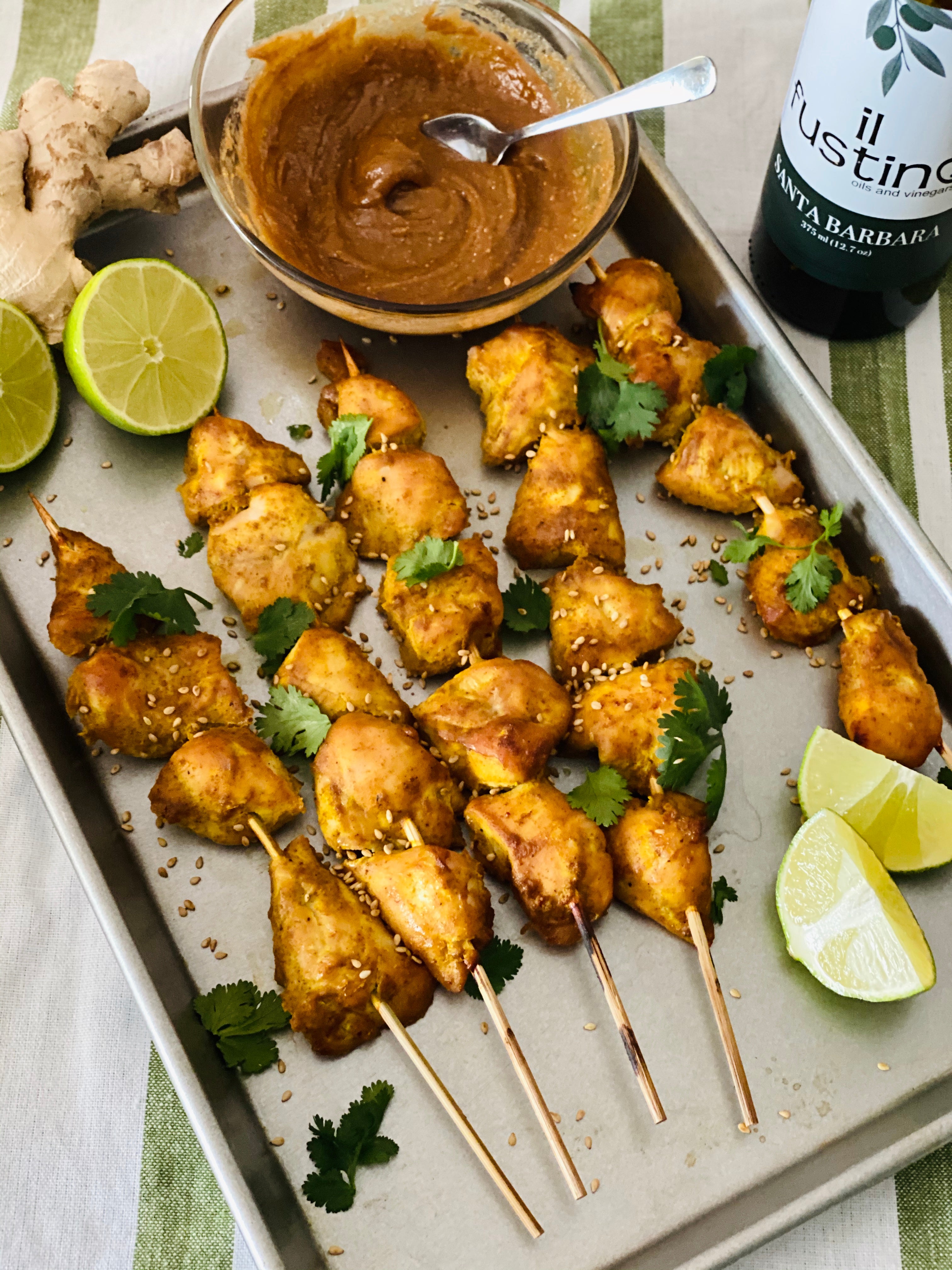 Chicken Skewers with Kaffir Lime Peanut Sauce
Ingredients:
For the Chicken Skewers:
1/4 cup, Greek yogurt
2 tbsp, soy sauce
2 tsp, curry powder
1 tsp, turmeric
1/4 tsp, cayenne –

 

optional
1, 1-inch piece of ginger
2, garlic cloves
1 1/2 pounds, boneless skinless chicken thighs
For the Peanut Sauce
3 tbsp, creamy peanut butter
1 tbsp, soy sauce
1 tbsp, il Fustino Kaffir Lime and Ginger Vinegar
1/2 tsp, il Fustino Toasted Sesame Oil
2 tsp, Sriracha
Directions:
Add the Greek yogurt, soy sauce, and spices into a medium mixing bowl, using a grater grate the ginger and garlic into the bowl. Whisk until combined, set aside.
Pat chicken thighs dry with a paper towel. Cut into 2 inch cubes.
Add the chicken to the marinade and toss to coat. Cover the bowl and let sit in the refrigerator for at least 1 hour (or up to 4).
While chicken is marinating, soak 10 skewers in water.
Towards the end of the resting time, preheat the oven to 450 degrees Fahrenheit. Line a baking sheet with aluminum foil and set aside.
Remove chicken from the refrigerator and thread the pieces onto your prepared skewers. Be sure not to crowd the skewers.
Arrange your skewers on the prepared baking sheet and bake in the preheated oven for 18-20 minutes. Remove from oven and let cool slightly.
While chicken is cooling make the peanut sauce: add all of the sauce ingredients to a small bowl, stir until combined and serve as a garnish for your chicken skewers.
Enjoy!