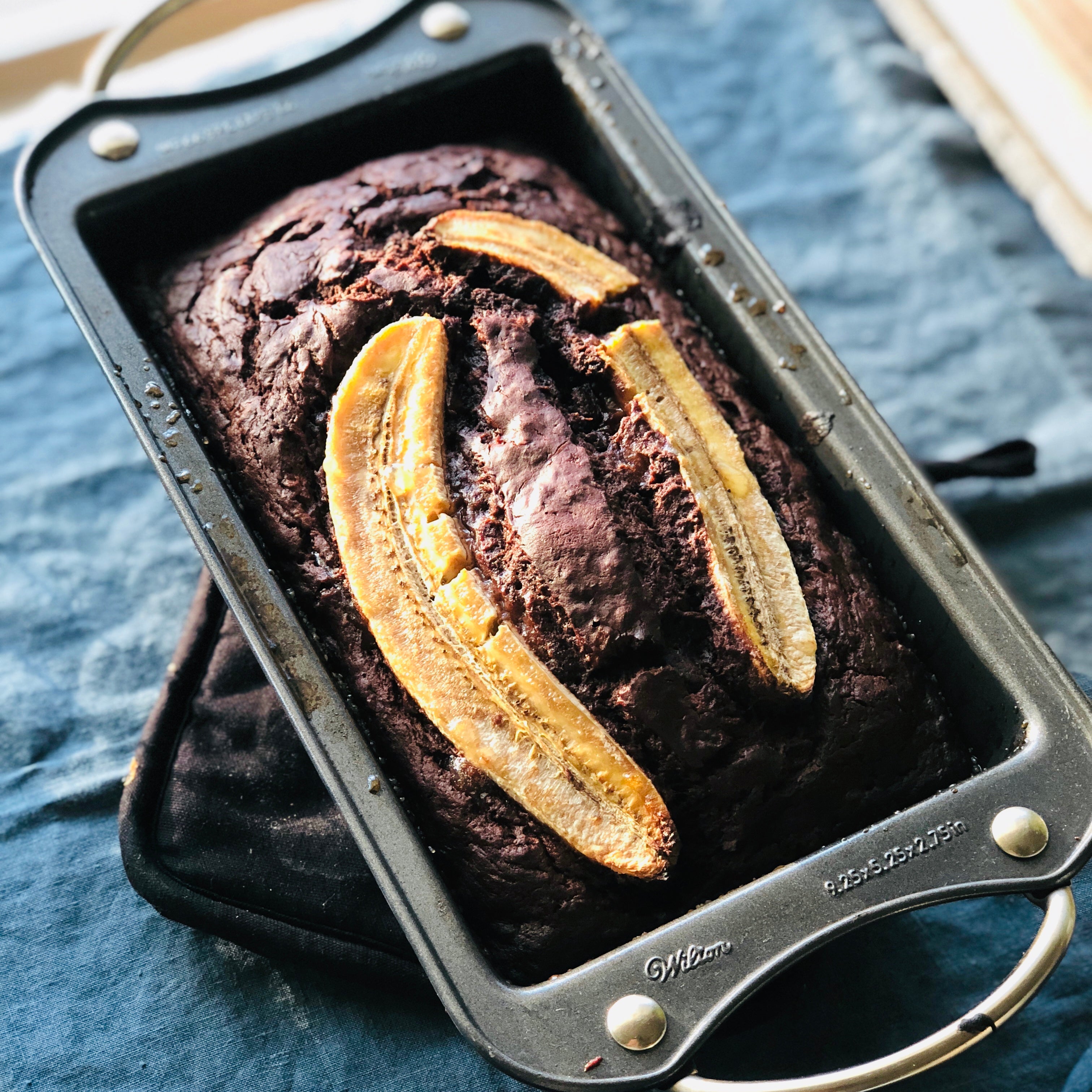 Cocoa Banana Bread
Recipe courtesy of Alison Roman
Servings: 8
Ingredients:
nonstick cooking spray
1/2 cup, Demerara sugar
1 1/2 cup, all-purpose flour
1/2 cup, cocoa powder – unsweetened
1 tsp, baking soda
1 tsp, kosher salt
6 tbsp, unsalted butter – room temperature
1/3 cup, granulated sugar
1/4 cup, brown sugar
1 tsp, vanilla extract
1, egg
5, bananas – extremely ripe (4 for mashed and 1 cut lengthwise for topping)
1/2 cup, marscarpone
Directions:
Preheat oven to 350 F. Spray a 9- inch loaf pan with nonstick spray, Sugar the inside of the pan with 1/4 cup of the Demerara sugar, tapping out the excess.
In a medium bowl, whisk flour, cocoa powder, baking soda, and salt together. Set aside.
Using an electric mixer beat the butter, granulated sugar, brown sugar and vanilla on high until light and fluffy- about 3 to 5 minutes. Add the egg and beat until combined and fluffy again. With the mixer on low slowly mix in the dry ingredients until blended. Using a spatula, fold the marscarpone lightly.
Pour the batter into the prepared loaf an, smoothing the top. Place the banana halves (cut-side up) on top of the batter. Sprinkle the remaining 1/4 cup of Demerara sugar and bake until the sides start to pull away and the cake is baked through. 90 to 100 minutes.
Let cool completely before slicing.
Enjoy!