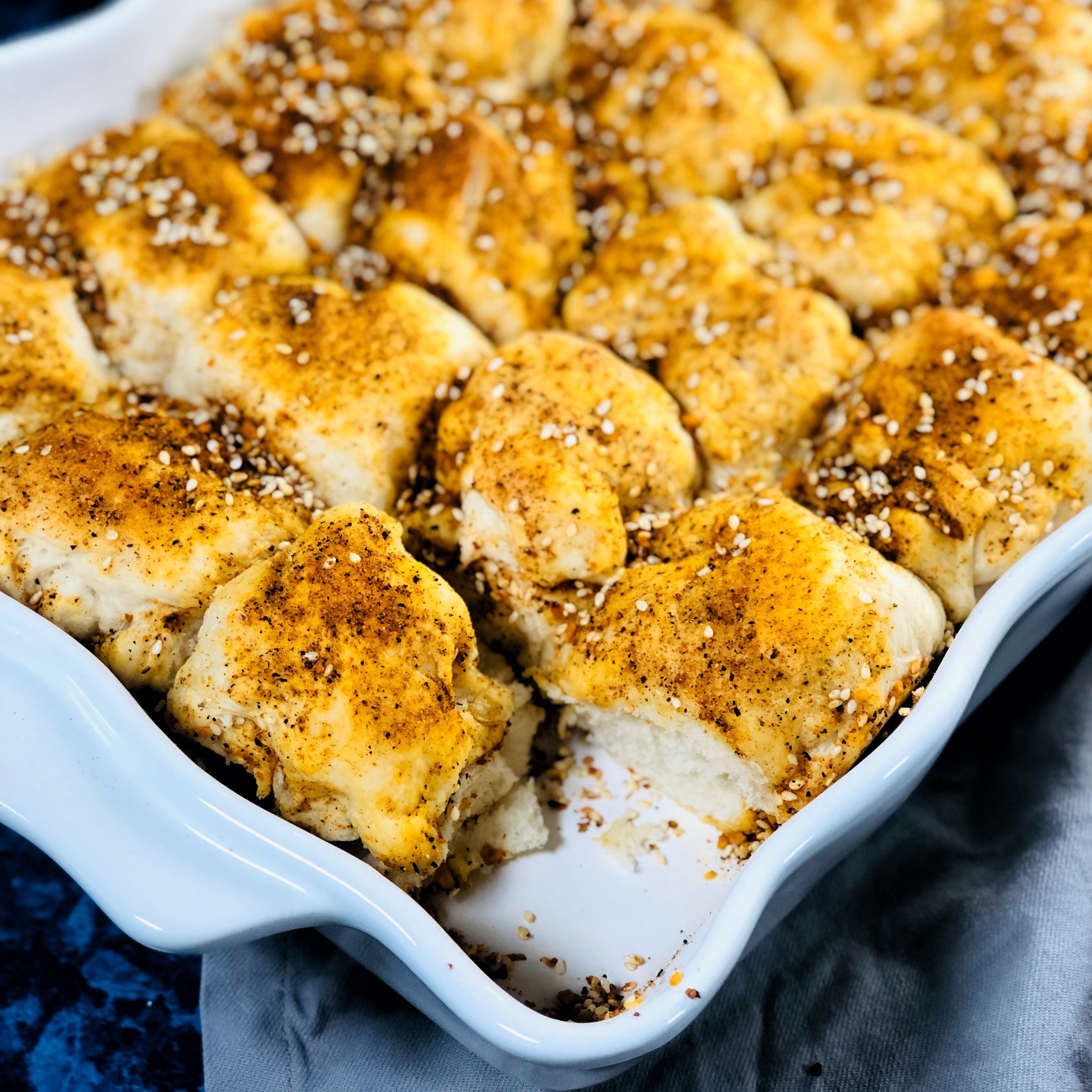 Dukkah Crusted Rolls
Servings: 12 rolls
Ingredients:
2 1/2 cups, all-purpose four
1 tbsp, instant yeast
3 tbsp, sugar
1/2 tsp, kosher salt
3/4 cup, whole milk – warmed to 110 degrees Fahrenheit
2 tbsp, butter – softened to room temperature
1 egg – warmed to room temperature
il Fustino Garlic Olive Oil
4-6 tbsp, il Fustino Dukkah
Directions:
In a mixing bowl combine 2 cups of flour, sugar and salt; set aside.
Warm milk to 110 degrees Fahrenheit and stir in the instant yeast to activate.
Fold milk and yeast mixture into the dry ingredients. Add the butter and egg to the mixture and knead until a ball of dough forms.
Dough should be slightly sticky and should peel away from the bowl easily.
If dough is too sticky add more flour.
Lightly grease another mixing bowl and transfer the dough to it.
Cover the bowl with plastic wrap and allow the dough to rise for 30 minutes at room temperature.
Once the dough has risen, pinch off pieces of the dough to form 12 rolls of equal size. Rolls should weight about 2 ounces each.
Transfer the rolls to a lightly greased 9 X 9 baking dish. Cover with plastic wrap and allow the dough to rise in the baking dish for another 30 minutes.
While dough is rising preheat the oven to 375 degrees Fahrenheit.
When the rolls are done proofing drizzle with garlic olive oil and sprinkle the dukkah over the top to coat the rolls.
Bake for 12-15 minutes or until the tops are golden brown.
Serve with more olive oil for dipping.