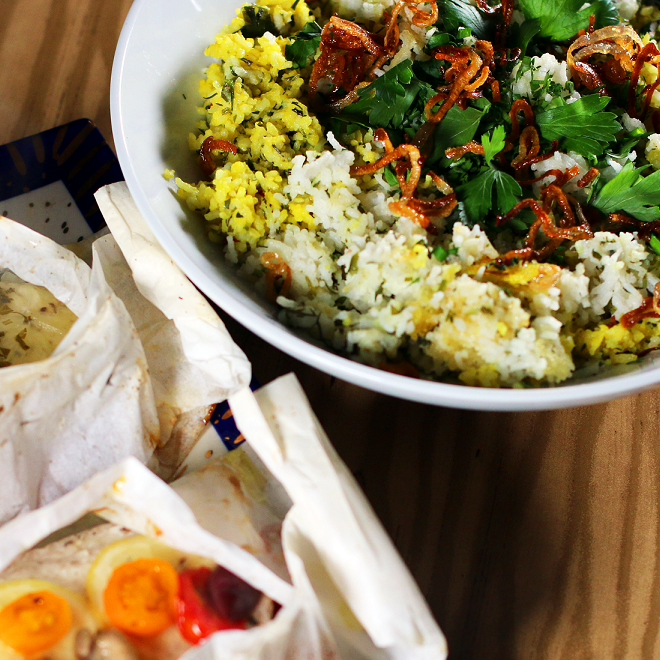 Herbed Rice with Crispy Shallots
Servings: 4
Ingredients:
1 1/2 cup, basmati rice
salt
1 cup, il Fustino Avocado Oil
2 medium shallots
1 tsp, saffron threads
1 1/2 cups, finely chopped herbs (we used 1/2 bunch cilantro, 1/2 bunch parsley, 1/2 bunch dill)
1 bunch, chives – finely chopped
3 tbsp, unsalted butter
Directions:
Rinse rice using lukewarm water until the water runs clear. Soak rice, in cold water with a healthy pinch of salt, for at least 1 hour.
Heat avocado oil in a saucepan over medium heat. While oil is warming thinly slice the shallots.
Once oil is warmed all the way through, add the shallots and fry until crispy or about 10 minutes.
Remove crispy shallots with a slotted spoon and let cool on a paper towel lined plate. Save the shallot oil for later.
While shallots are frying, crush the saffron threads in a small bowl and submerge in 3 tablespoons of hot water. Set aside.
Once rice is done soaking. Bring a pot of water to a boil. Once water is boiling drain the rice and add it to the pot with a pinch of salt. Cook rice for about 4 minutes or until the grains start floating to the top of the water. The rice should be cooked al dente at this point (tender on the outside and slightly firm in the center). Drain rice with cold water to stop it from cooking any further, set aside.
Wipe out the rice pot and add 2 tablespoons of the shallot oil and 1 tablespoon of the saffron water to the pot and sprinkle with salt.
Now add the rice and finely chopped herbs to the pot in layers.
Alternating between layers of rice and layers if herbs.
Once rice and herbs are layers, poke a few holes in the rice without hitting the bottom of the pot. These holes will allow steam to release while you are cooking the rice.
Wrap pot lid in a kitchen towel and cover pot, heat the rice over medium heat for 7 minutes. Reduce heat to low, uncover and slice butter into pieces and scatter over the top of the rice.
Cover pot again and cook for 20 minutes. Taste and salt if needed.
Scoop a third of the rice into a serving bowl and pour the rest of the saffron mixture over the top and stir until rice is evenly coated. Then fold in the rest of the rice.

Top with crispy shallots and serve!