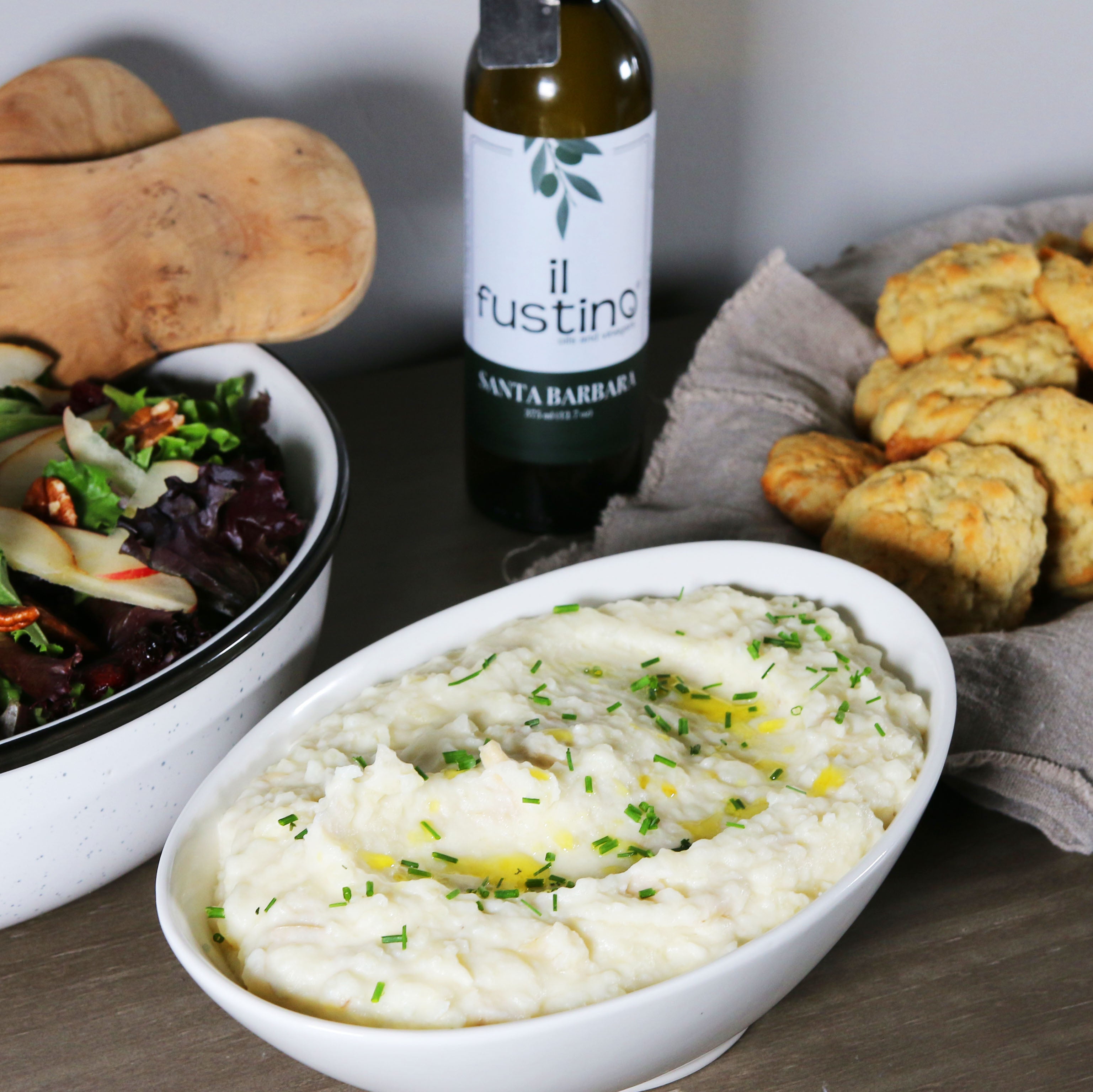 Mashed Potatoes with Marscapone and Buttermilk
Yes this is the same stuff used to make Tiramisu. It is not sweet, just creamy and yummy. This really works with mashed potatoes and the buttermilk just adds a hint of sourness.
Servings: 4
Ingredients:
4 pounds, russet potatoes – peeled and chopped into 1-inch pieces (about 5 large)
3 tablespoons, il Fustino Arbequina EVOO
4 tablespoons, unsalted butter – cut into 1/2-inch pieces, at room temperature
2 cloves, garlic – peeled and smashed
Kosher salt
1 cup, mascarpone – at room temperature
1/2 cup, buttermilk
Freshly ground black pepper
1 tablespoon, chives – finely chopped
Directions:
In a 5-quart saucepan, combine the potatoes, EVOO, the garlic, 1 teaspoon salt and enough cold water to cover. Bring to a boil over medium-high heat. Reduce the heat to a simmer and cook until the potatoes are tender, 15 to 20 minutes. Drain in a colander and remove the garlic cloves. Return the potatoes to the pan and, using a potato masher, mash the potatoes until smooth.
Add the mascarpone, buttermilk, the butter, 2 teaspoons salt and 1 teaspoon pepper to the potatoes. Stir over low heat until smooth and warmed through. Season with salt and pepper. Transfer to a bowl and serve. Top with finely chopped chives.
Not only is this a delicious alternative to regular mashed potato recipes, but it's a very user-friendly way to serve your potato side dish. They're really decadent: not too rich, but just rich enough, and perfect for any special occasion. If you cannot find mascarpone, don't bother making this there really is no substitute.