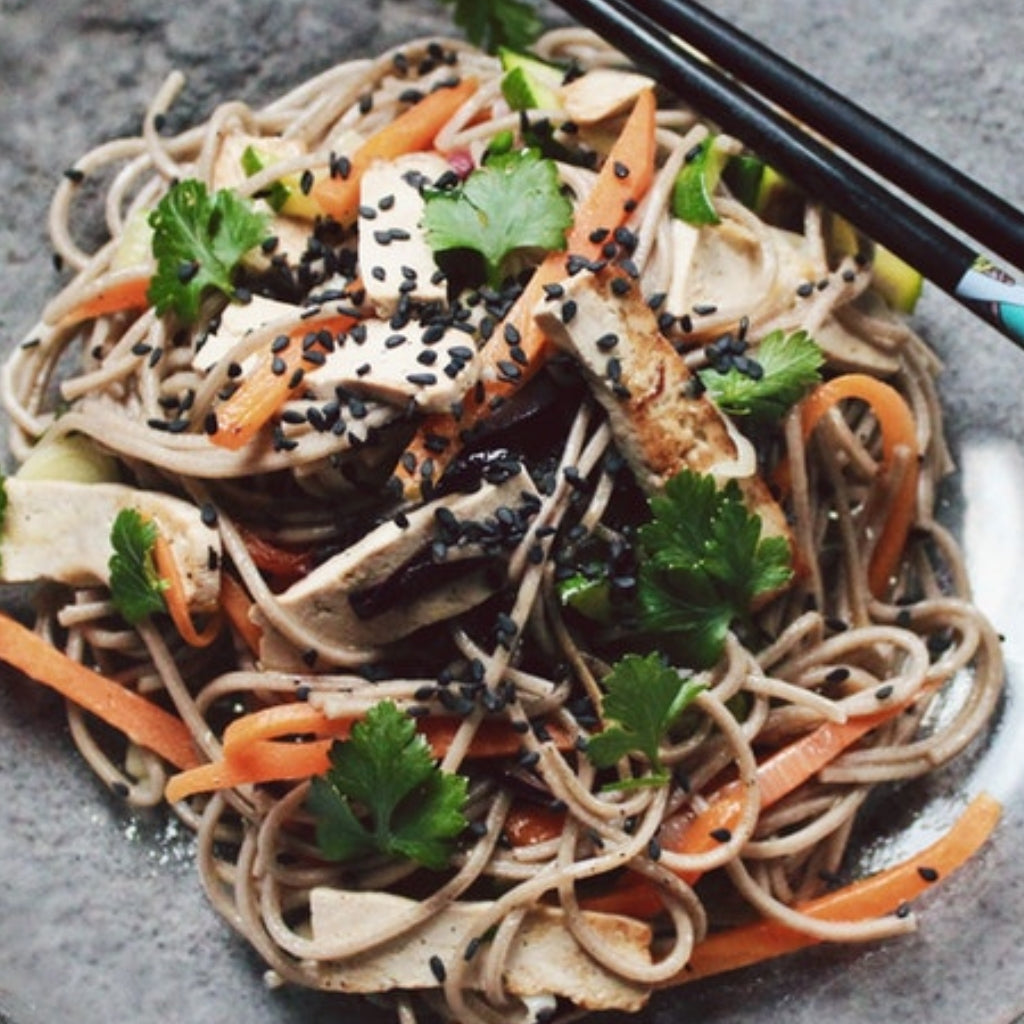 Warm Asian Chicken Noodle Salad
Author: Jody Kirkley
I made this instead of a beef salad because I had left-over Costco chicken and no beef. It really turned out well. You must use the Kaffir Lime Vinegar Sauce to finish this. Try marinating bean sprouts in the sauce as an appetizer.
Ingredients:
3/4 pound, cooked chicken
1 tablespoon, oyster sauce
1 tablespoon, soy sauce
1/2 teaspoon, sugar
8 ounces, uncooked fine rice vermicelli
1/2 cup, coconut milk
1 teaspoon, il Fustino Avocado Oil
1 cup, thinly sliced yellow onion – separated into rings
4 cups, bean sprouts
2 cups, cucumber – peeled and julienned
1 cup, green cabbage – thinly sliced
1 cup, carrots – peeled and julienned
10 basil leaves – coarsely chopped
Kaffir Lime Vinegar Sauce
2 tablespoons, il Fustino Kaffir Lime Vinegar
1 tablespoon, fish sauce
1 teaspoon, garlic salt
1 green onion – chopped
1 tablespoon, unsalted peanuts – finely chopped
Directions:
Break chicken up into bite-sized chunks.
Combine oyster sauce, soy sauce, and sugar. Stir well; set aside.
Combine bean sprouts, cucumber, cabbage, carrots, and basil in a large bowl; toss gently.
Bring 3 quarts of water to a simmer in a large Dutch oven. Add rice vermicelli; simmer 2 minutes or just until tender. Drain and return rice vermicelli to pan. Add coconut milk; toss well. Set aside; keep warm.
Heat oil in a wok or large nonstick skillet over medium-high heat until hot. Add onion; stir-fry 2 minutes. Add chicken; stir-fry 3 minutes. Add oyster sauce mixture; stir-fry 30 seconds. Remove from heat. Set aside; keep warm.
Spoon bean sprout mixture into each of 4 large shallow bowls; top with chicken mixture and 1 cup rice vermicelli mixture. Drizzle with Lime-Vinegar Sauce.
For the Kaffir Lime Vinegar Sauce: Combine all ingredients except the peanuts.
Just before serving add the peanuts.