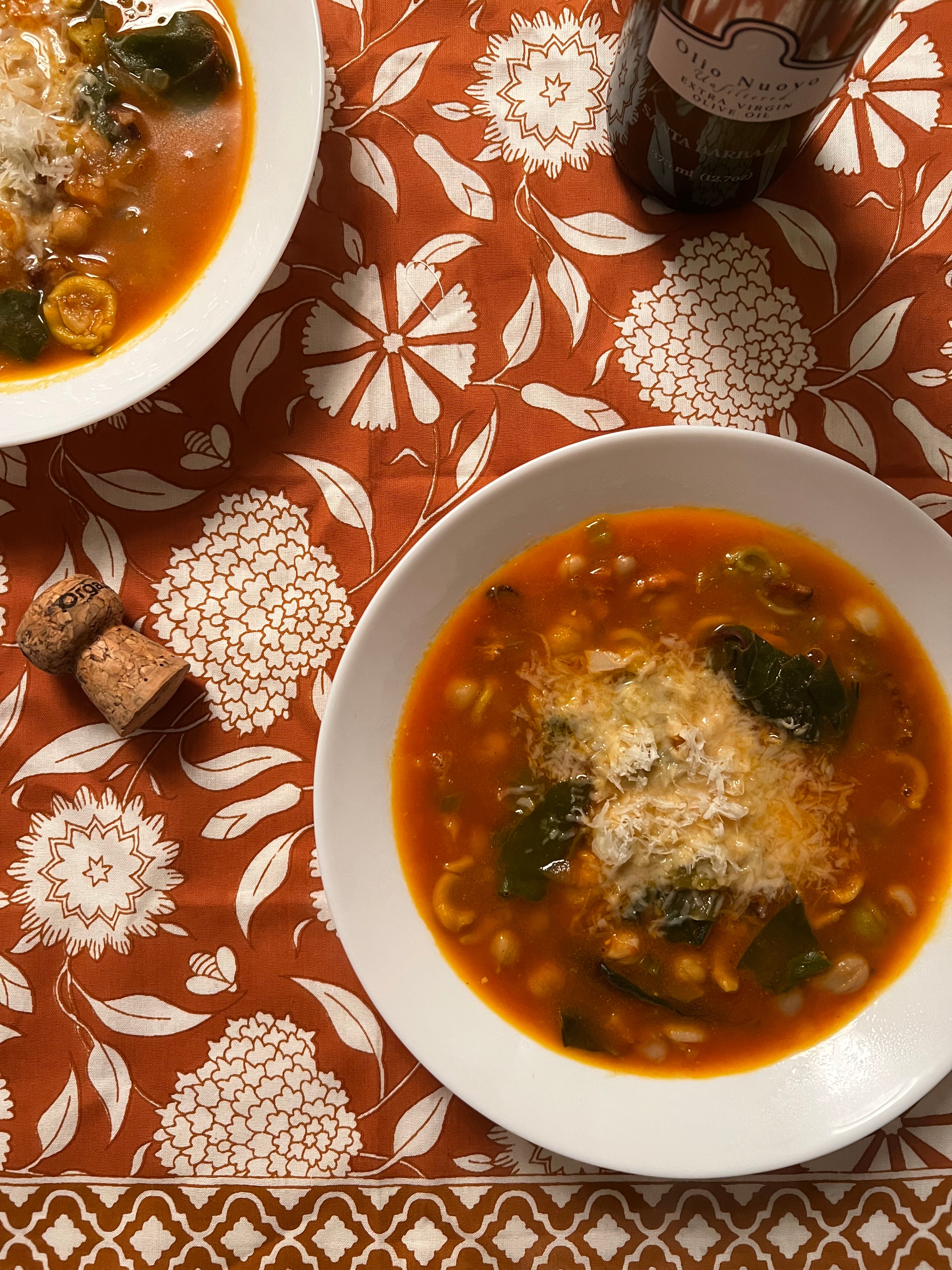 New Year's Pasta e Fagioli
Ingredients:
2 tablespoons il Fustino Extra Virgin Olive Oil ( plus more for drizzling)
1/8 pound pancetta or thick cut bacon, chopped 
2 sprigs of Rosemary and/or thyme
1 bay leaf
1 medium onion, finely chopped
1 small carrot, finely chopped
1 rib celery, finely chopped 
3 cloves garlic, finely chopped
Salt & pepper
1 15 oz can of cannellini beans, drained
1 15 oz can of garbanzo beans, drained
1 cup canned tomato sauce or canned crushed tomatoes
4 cups chicken stock
1 bunch of Swiss chard, stems removed, ripped into 2 inch pieces
1 1/2 cups orecchiette pasta (or other small pasta shape)
grated Parmigiano cheese
crusty bread for serving
Directions:
Heat a large pot over medium high heat.
Add olive oil to pot.
Add pancetta and let brown.
Add herbs, bay leaf, chopped vegetables and garlic. Season with salt and pepper.
Cook until onions become translucent.
Add beans, tomato sauce, and chicken stock to pot and bring heat to high.
Add Swiss chard and cook for 5 mins.
Bring soup to a rapid boil and add pasta.
Reduce heat to medium and cook soup, stirring occasionally, 8-12 minutes or until pasta is cooked al dente.
Remove herb stems and bay leaf from soup.
Ladle soup into bowls and top with lots of grated cheese. Drizzle with good quality olive oil.
Serve with crusty bread and enjoy!