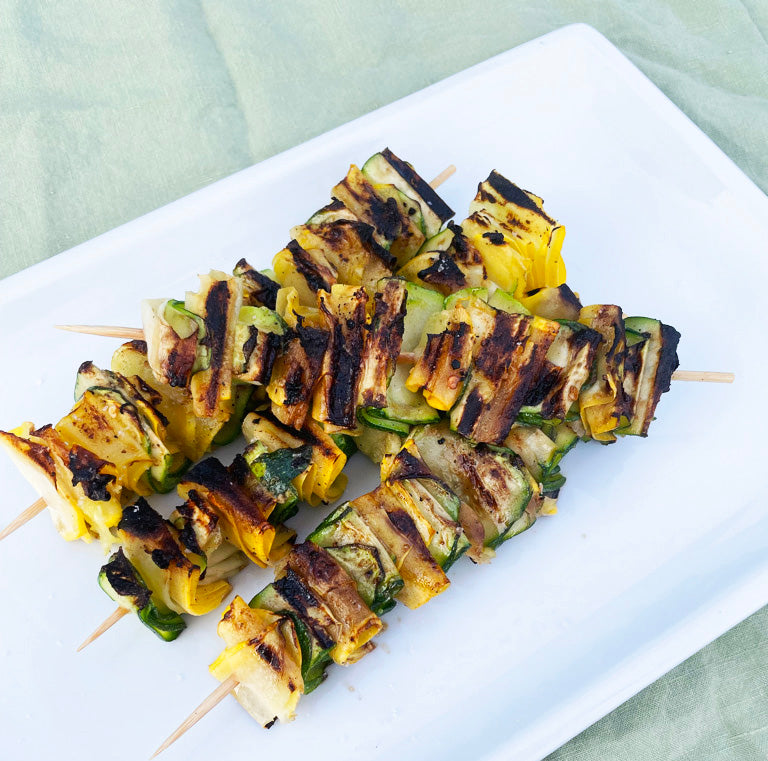 Zucchini Ribbon Skewers with Lemon Garlic Butter
Ingredients:
2 medium, zucchini
2 medium, summer squash
3 tbsp, chopped basil
For the lemon butter:
6 tbsp, unsalted butter
3, garlic cloves
salt and pepper
2 tbsp, il Fustino Lemon Olive Oil –

 

plus more for garnish
Directions: 
Prepare the zucchini and squash: Use a mandolin to thinly slice all of the squash. Scrunch each slice of squash onto a skewer – about 5-6 slices per skewer. Repeat for all the squash slices and skewers.
Melt the butter and stir all of the lemon butter ingredients together. Brush each skewer with the lemon butter.
Heat up the pan over medium-high heat.
Cook each side of the skewers for about 2 minutes or until golden brown with grill marks on each side.
Remove from grill pan. Brush with more of the lemon butter and garnish with basil. Enjoy!