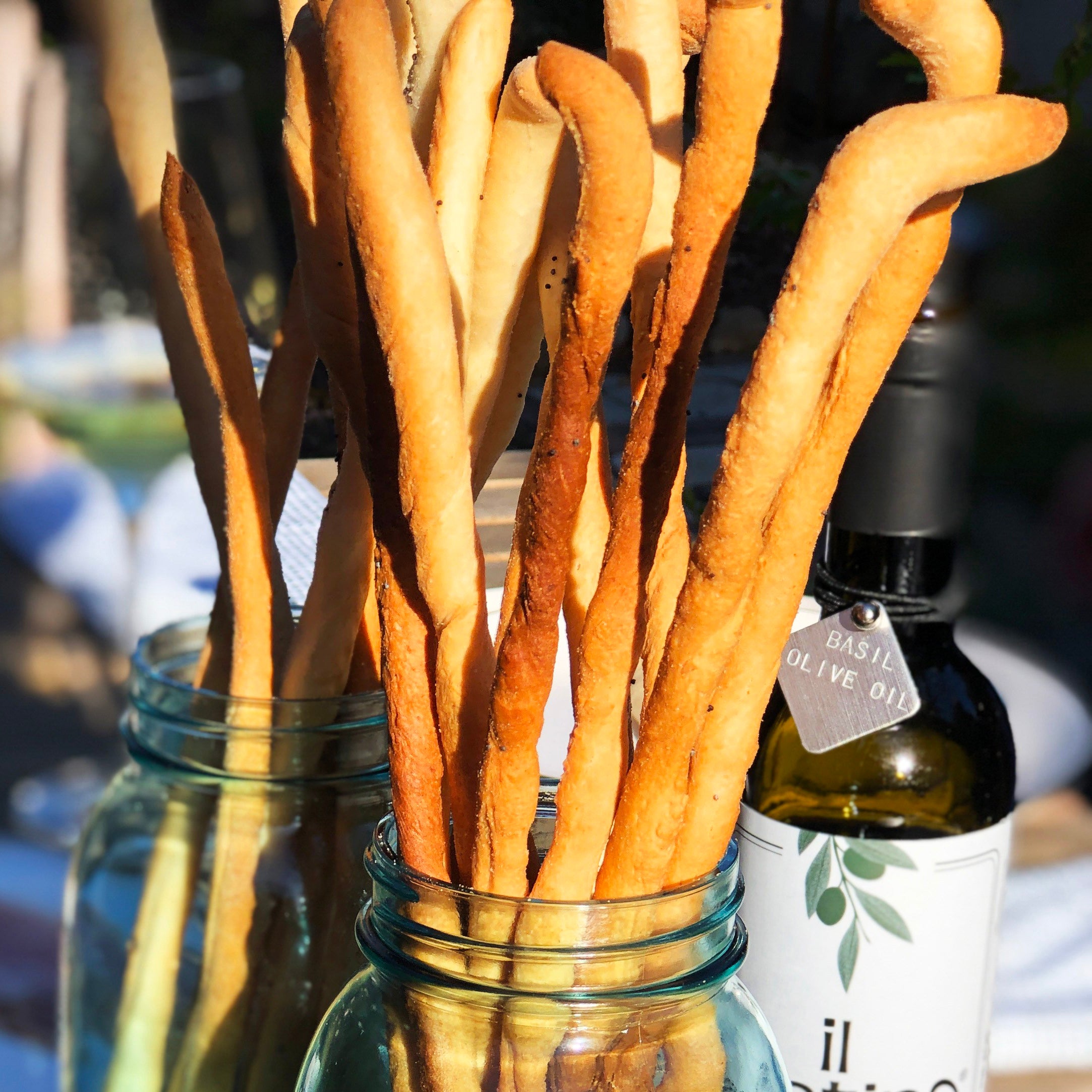 Breadsticks
Servings: makes about 25
Ingredients:
1 3/4 tsp, active dry yeast
1/2 tbsp, sugar
1 1/4 cup, water – lukewarm
2 tbsp, il Fustino Picual EVOO – plus more for brushing
3 3/4 cup, bread flour
1 1/2 tsp, kosher salt
1/2 cup, semolina – for dusting
Directions:
In a small bowl combine the yeast with the sugar and water and let sit for about 5 minutes (until the yeast dissolves and is very foamy – depending on the temperature in your kitchen this can take anywhere from 5 to 10 minutes).
Once yeast is foaming add in the EVOO. Add the flour to a separate mixing bowl and pour yeast mixture over the top.
Knead on a lightly floured surface or until the dough starts to hold its shape. Continue kneading to allow the gluten to develop, about 8 to 10 minutes. Once dough is smooth and elastic add the salt.
Use a rolling pin to flatten the dough into a 14 by 3 inch rectangle.
Brush the top of the dough and cover with a kitchen towel or plastic wrap and leave to rise. The dough should double in size, this should take about an hour. (Let dough rise in a warm environment, like on top of the refrigerator.)
While dough is rising, preheat the oven to 450 degrees Fahrenheit and prepare a baking sheet.
To shape the breadsticks: Using a sharp knife, cut the loaf crosswise into rectangles that are about 3 inches long and the width of a finger. Dust the counter with semolina and roll each rectangle into the semolina to coat. Now pull gently from each end of the rectangle until the dough stretches to be about the length of the baking sheet. Move to the baking sheet and repeat with each rectangle of dough.
Bake in preheated oven for 12-15 minutes or until golden brown.
Remove from oven and cool.
Enjoy!