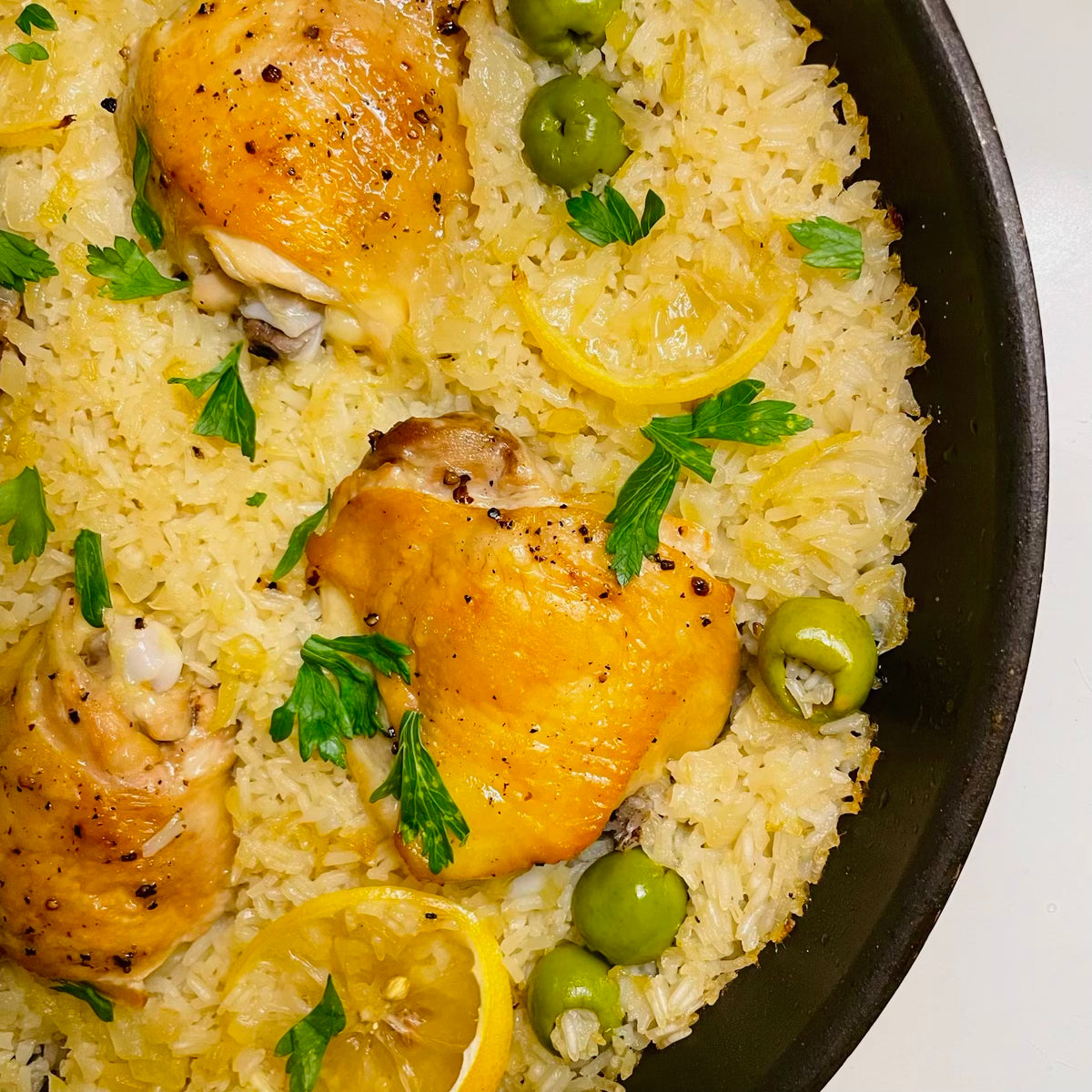 Chicken & Rice with Olives
Ingredients:
1, medium onion
2 cloves, garlic
1/2 cup, Castelvetrano olives
4 bone-in, skin-on chicken thighs
2 teaspoons kosher salt, divided
1 tsp, black pepper
3 tbsps, il Fustino Tuscan Garlic & Herbs Olive Oil
1 1/2 cups, long grain white rice
1/2 cup dry white wine
2 1/4 cups, unsalted chicken broth
juice from half a lemon
2 tbsp, fresh parsley leaves –

 

finely

 

chopped
Directions:
Move the rack in the middle of the oven, preheat to 350 degrees Fahrenheit.
While oven is preheating, prepare your ingredients: chop the onion, mince garlic cloves, and remove pits from olives (if needed). Set aside.
Season chicken thighs with salt, pepper and 1 tbsp of olive oil. Heat the rest of the olive oil in a large straight-sided skillet over medium heat. Once oil is hot, add the chicken thighs skin side down and cook for 5 minutes. Flip and cook until golden brown on both sided (about 4 minutes), transfer to a plate and set aside.
Add chopped onion to the same pan and cook until translucent (6 minutes), add garlic and olives and cook for another minute. Add rice and stir until toasted. Once rice is toasted add wine and cook – continuing to scrap the bottom of the pan to prevent sticking. Cook until liquid is evaporated – about 2 minutes. Add 2 1/4 cup of chicken broth and a pinch of salt to the pan and bring to a boil.
Once boiling add the chicken thighs to the pan – press the thighs into the rice skin side up. Cover and bake in preheated oven for 30 minutes. Uncover and cook for 20 minutes more or until rice and chicken are cooked through.
Garnish with parsley and fresh lemon juice.
Serve and enjoy!