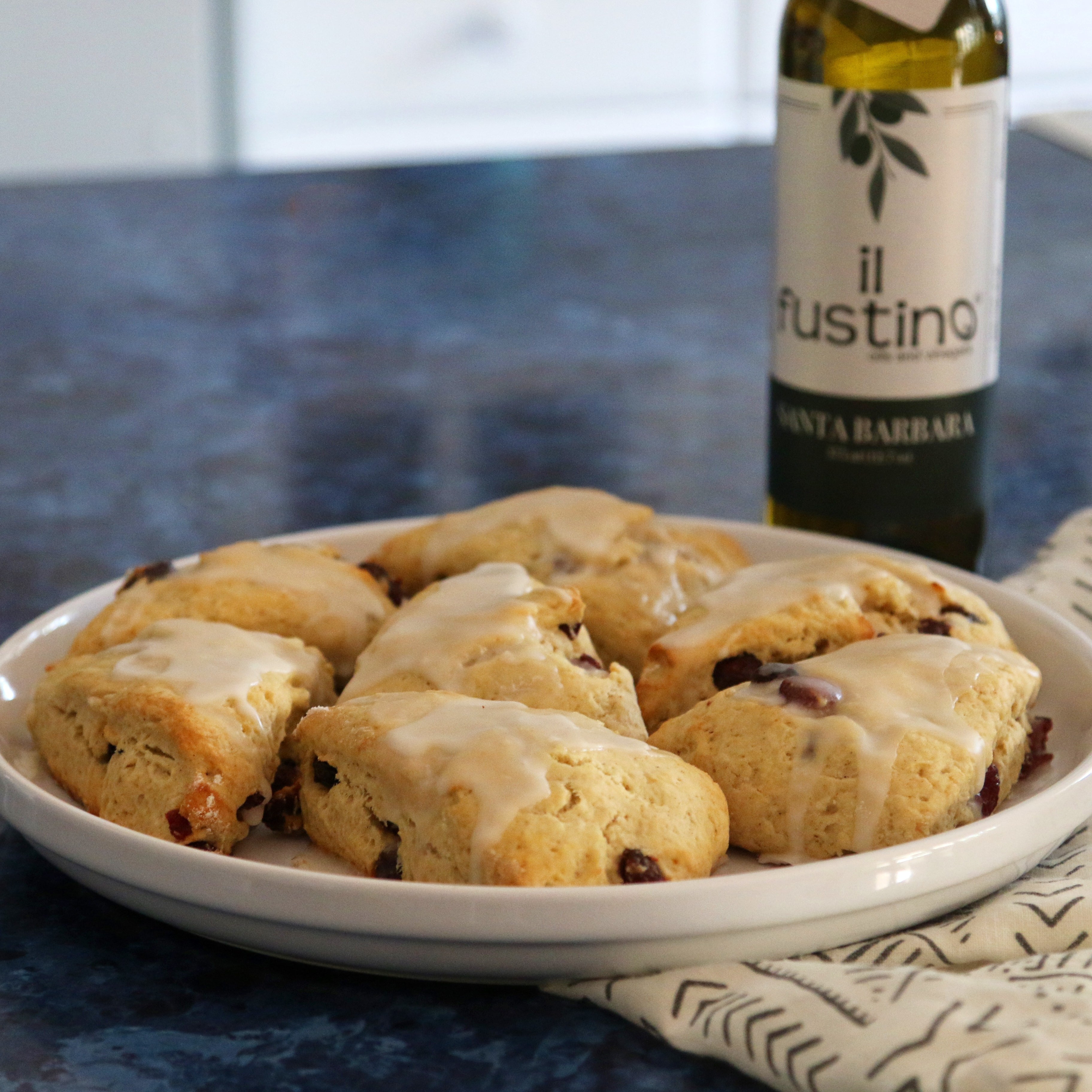 Cranberry Scones with Mimosa Glaze
Servings: 8
Ingredients:
2 cups, all-purpose flour
2 1/2 tsp, baking powder
1/2 tsp, ground cinnamon
1/4 tsp, ground nutmeg
1/2 tsp, salt
3 tbsp, sugar
1/4 cup, il Fustino Arbequina EVOO
1, egg
zest of one small orange
1/2 cup + 1 tbsp, almond milk
1/2 cup, dried cranberries
2 tbsp, il Fustino Mimosa Champagne Vinegar
3/4 cup, powdered sugar
Directions:
Preheat oven to 450 degrees Fahrenheit.
Prepare a baking sheet by lining it with parchment paper.
In a large mixing bowl combine all of your dry ingredients (flour, baking powder, cinnamon, nutmeg, salt and sugar). Set aside.
In a small bowl, whisk together 1/2 cup of almond milk, orange zest and the egg.
Using a fork, form a well in the center of the dry ingredients.
Slowly stream the wet mixture into the center and mix with a fork to create a shaggy dough. Add cranberries to the mix, fold until combined.
Once the dough is mixed, knead on a lightly floured surface until the dough forms a ball.
Flatten the ball of dough to about 3/4 inch thick.
Using a bench scraper (or knife) to cut dough into 8 triangles.
Transfer dough pieces to your baking sheet and brush the remaining almond milk over the top of each of the scones.
Bake for 10-12 minutes.
While the scones are baking, make the glaze. Combine glaze ingredients (Mimosa Vinegar and powdered sugar).
Once scones are golden brown, remove from the oven.
While the scones are still hot pour half of the glaze over the scones.

Once scones have cooled divide the rest of the glaze over the scones.
Serve!