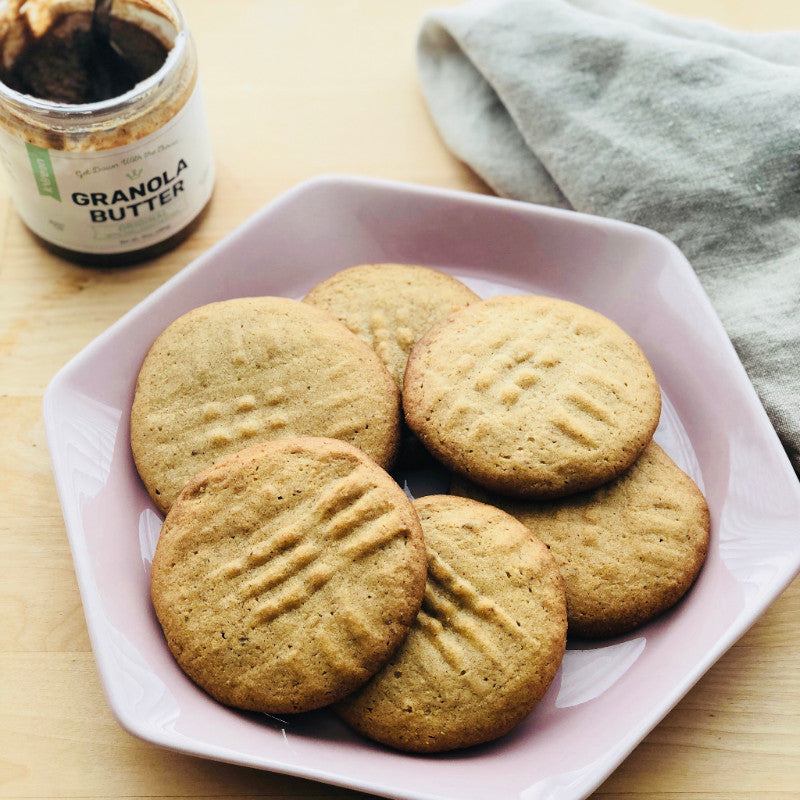 Granola Butter Cookies
Servings: 24
Ingredients:
1 cup, butter – unsalted
1 cup, Kween Granola Butter
1 cup, sugar
1 cup, dark brown sugar – packed
2, eggs
2 1/2 cups, all-purpose flour
1 tsp, baking powder
1 1/2 tsp, baking soda
1/2 tsp, salt
1/2 cup, chopped peanuts (optional)
Directions:
With an electric mixer, cream together the butter, granola butter and sugars together.
Once combined beat in the eggs.
In a separate mixing bowl, sift flour and then add the baking powder, baking soda and salt. Stir to combine.
Slowly add the dry mixture to the bowl with the butter mixture. If using peanuts fold them in now.
Stir until a smooth ball of dough forms.
Cover dough in cling wrap and refrigerate for 1 hour.
Right before you take the dough out of the refrigerator, preheat the oven to 375 F.
Roll dough into one inch balls and place on a baking sheet leaving about two inches between each ball of dough.
Once the baking sheet is full flatten each ball with the back of a fork, making a crisscross pattern.
Bake for 10 minutes or until cookies are just about to brown.
Enjoy!