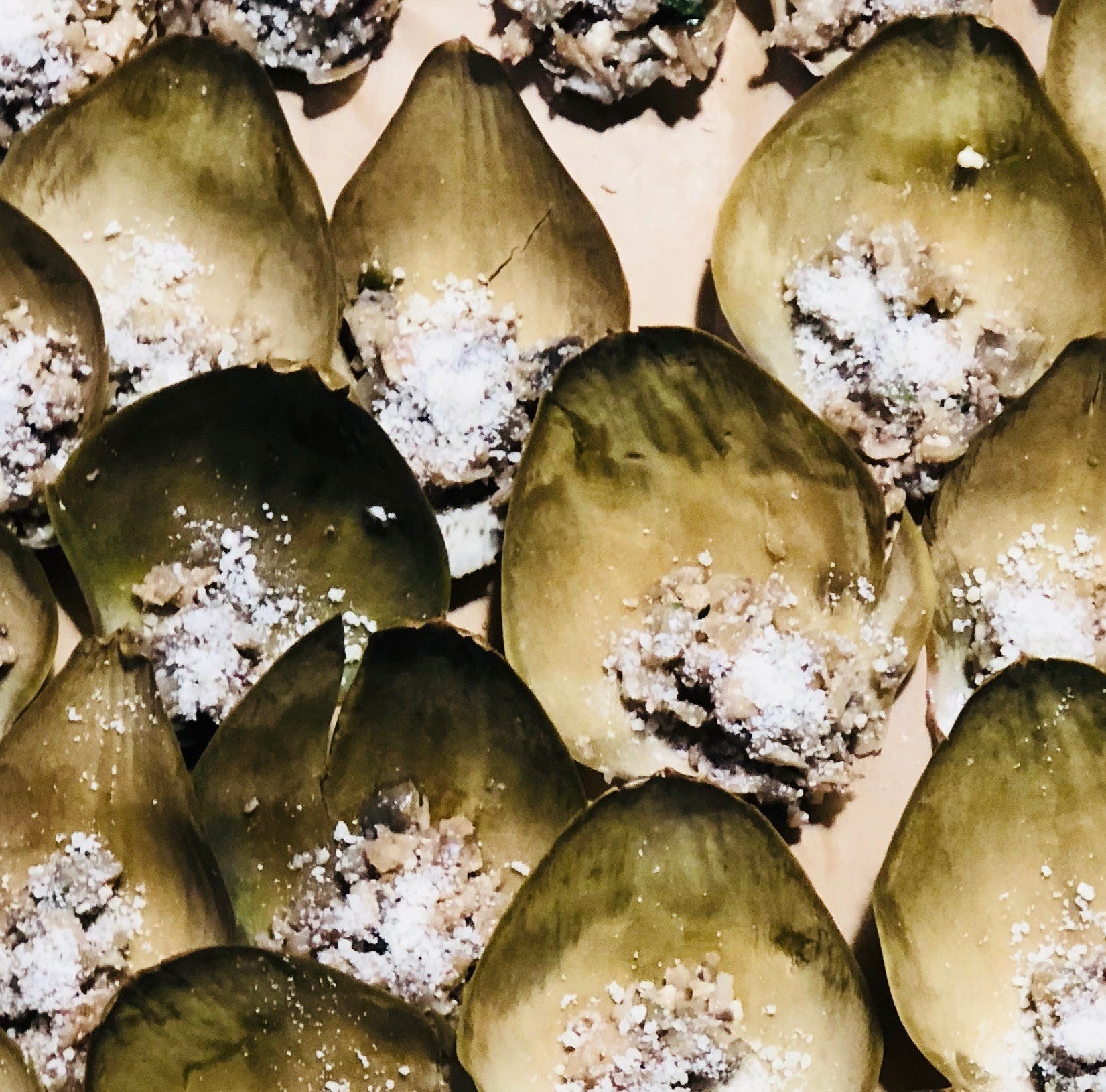 Oyster Mushroom Artichoke Rockefeller with Lemon Olive Oil
Recipe courtesy of Chef Robin Goldstein
Ingredients:
1 tbsp, il Fustino EVOO
12 oyster mushrooms- trimmed and sliced thin
1/4 cup, white onion-chopped fine
1 tbsp, garlic- minced
salt and pepper to taste
2 tbsp, white wine
1/2 cup, spinach- cooked and drained
1 tbsp, lemon zest
2 whole artichokes (pick 24 larger outer leaves for later use)
1/2 cup, artichoke heart- chopped fine
1/2 cup, Parmesan cheese- grated
4 tbsp, bread crumbs
1 tbsp, parsley- chopped fine
pinch of chili flakes
il Fustino Lemon Olive Oil
Directions:
Heat a large saute pan over medium heat. Saute the mushroom in the il Fustino EVOO with the onion and garlic for 2-3 minutes. Add salt and the white wine and continue cooking until the edges of the
mushrooms are lightly browned. Remove the mushrooms to a medium bowl and stir the cooked spinach, lemon zest and artichoke hearts into the mushroom mixture.
Mix the Parmesan with the breadcrumbs and chopped parsley in a separate bowl and season with salt and pepper and a pinch or two of chili flakes.
Preheat the broiler to high.
Place the 24 cooked artichoke leave on a baking pan an inch apart and top each with a heaping tablespoon of the mushroom mixture. Sprinkle each leaf with 1/2 tablespoon of the Parmesan mixture.
Broil for 2-3 minute or until browned.
Drizzle with il Fustino Lemon Olive Oil and serve warm.