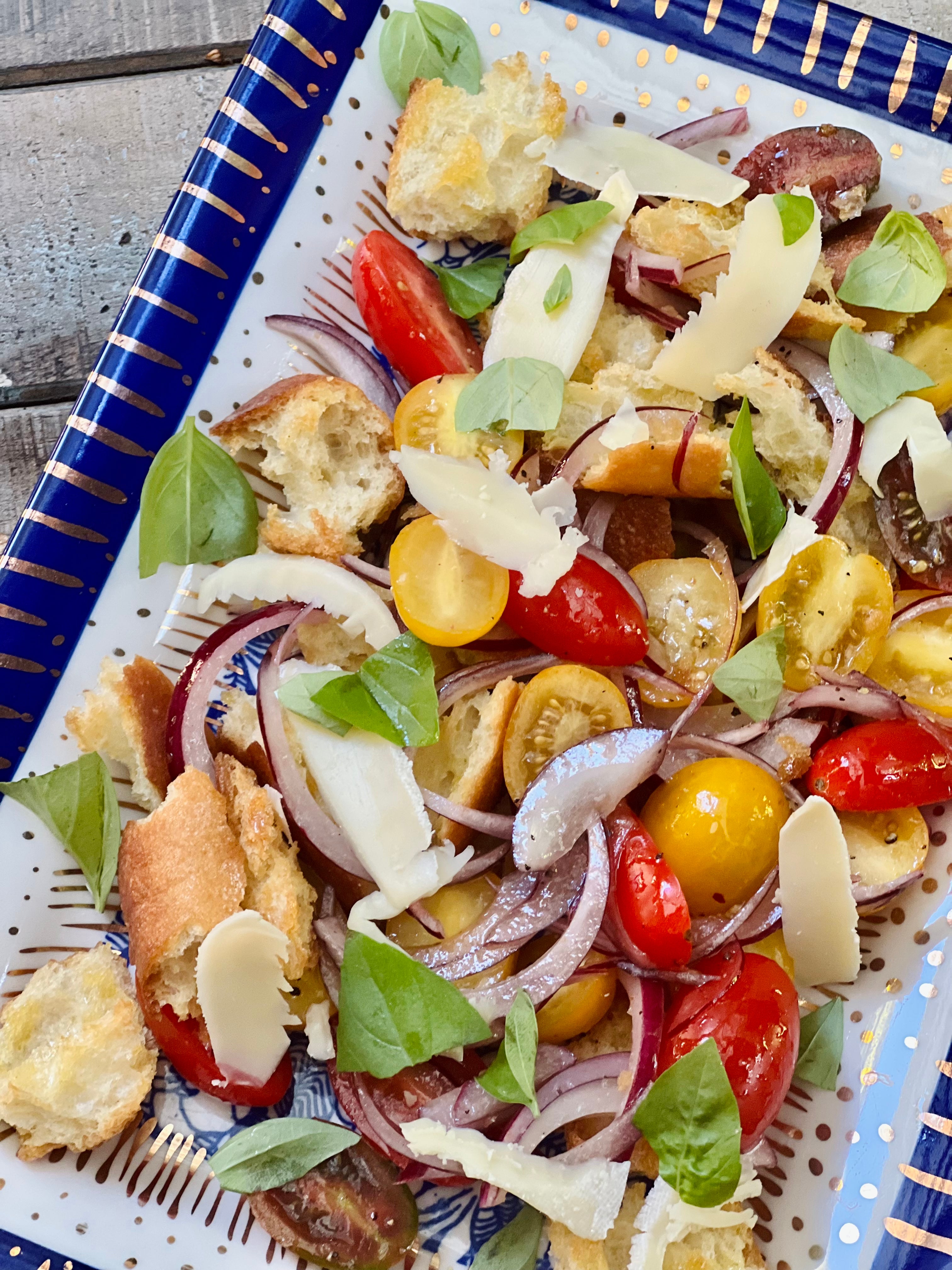 Panzanella Salad
Ingredients:
1/2 baguette - 

torn into 1-inch pieces

3 Tbsp, il Fustino Mission Extra Virgin Olive Oil

a pinch of kosher salt

1/2 small, red onion

1, handful of basil - chopped

1 pint, 

cherry tomatoes - cut in half

2 oz

 

shaved Santa Barbara Cheese Company Alpine Cheese

1/4 cup, il Fustino Tuscan Garlic & Herbs Olive Oil

1 tsp,

 

honey

1 clove, garlic - grated or finely minced
2 tbsp,

 il Fustino Casa Rangoni White Balsamic

1/2 tbsp, 

Dijon mustard

salt & pepper
Directions:
Preheat oven to 375 degrees Farhenheit. Place the torn bread on a rimmed baking sheet and drizzle the EVOO over the bread. Use your hands to toss the bread in the oil until it is coated. Sprinkle with salt and bake in the oven for 10 minutes or until golden brown, shake the pan half way through to move the bread around.
In the bottom of a serving bowl, mix the dressing: add Tuscan Garlic & Herbs olive oil, white balsamic, honey, Dijon mustard, grated garlic, and salt & pepper to the bowl. Whisk until combined, set aside.
Thinly slice red onion and add to the serving bowl. Then add torn basil & chopped tomatoes and toasted baguette pieces. Toss to coat in dressing.
Top with shaved alpine cheese and serve immediately!