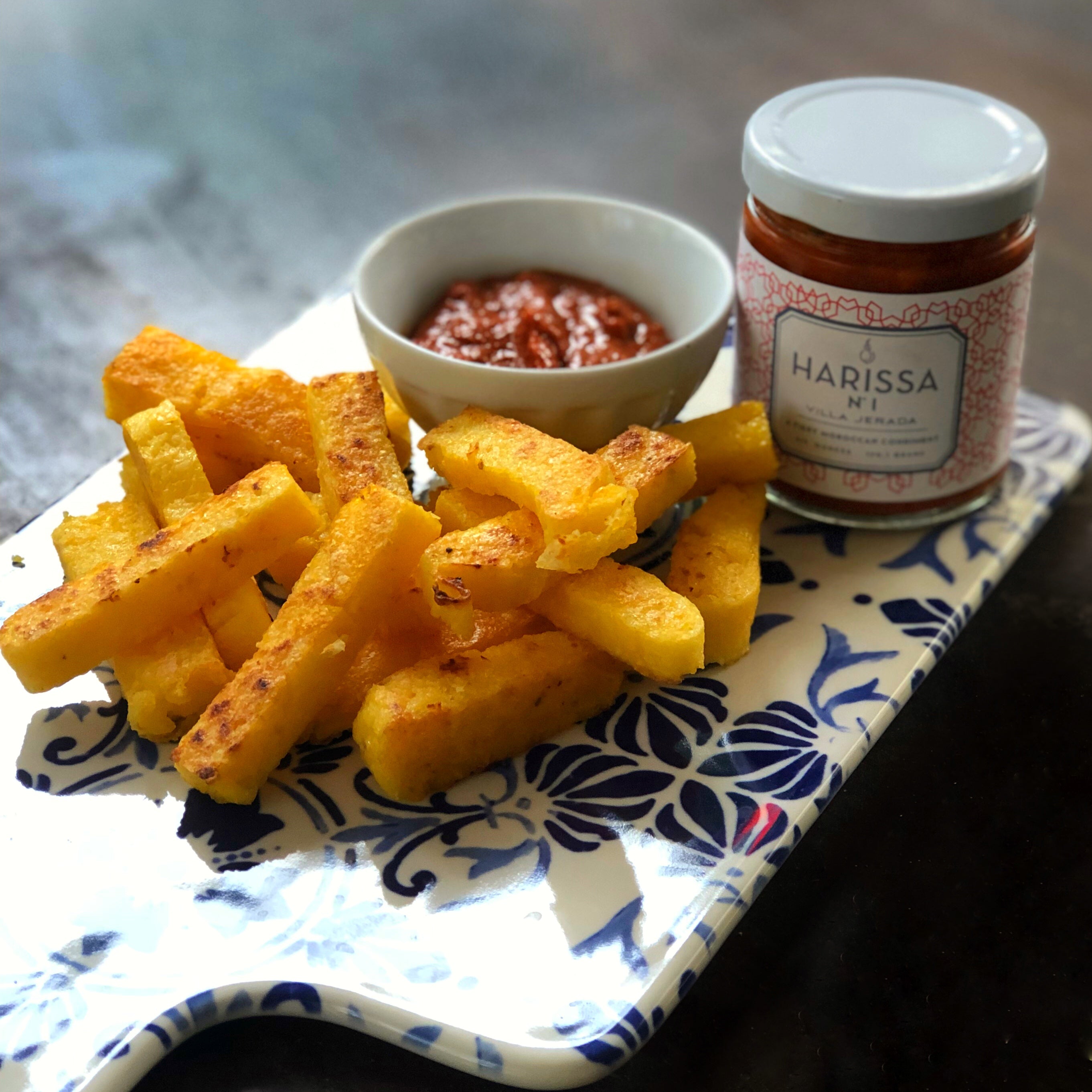 Polenta Fries
Servings: 6
Ingredients:
For Polenta Fries:
1 1/2 cups, Grist and Toll Polenta
3 tbsp, il Fustino Koroneiki Blend EVOO
4 cups, milk
1/2 cup, parmesan cheese
salt to taste
black pepper to taste
il Fustino Avocado oil, for frying
For Dipping:
Villa Jerada Harissa Sauce
Directions:
In a medium sauce pan bring the milk to a simmer. Slowly whisk your polenta into the simmering milk.
Once combined reduce the heat to low. Continue to cook and stir every few minutes. Cook until creamy, about 30 minutes.
Remove from heat and stir in the EVOO and cheese. Once combines season to taste.
Lay a piece of parchment paper over a baking pan. Pour the polenta over the prepared pan and spread evenly.
Let cool to room temperature and then place in the refrigerator for 1 hour or until firm.
Once polenta is firm remove the from the pan and peel off the parchment paper. Slice polenta into pieces (about 3 inches long and 1/2 inch wide)
In a large skillet heat a few tablespoons of avocado oil over medium high heat and lightly fry the polenta sticks about 2 minutes on each side.
Once golden brown remove from pan and place on a plate covered with some paper towels. While they are still hot sprinkle with a little more salt.
Serve hot with a hearty dollop of Villa Jerada Harissa Sauce. Enjoy!