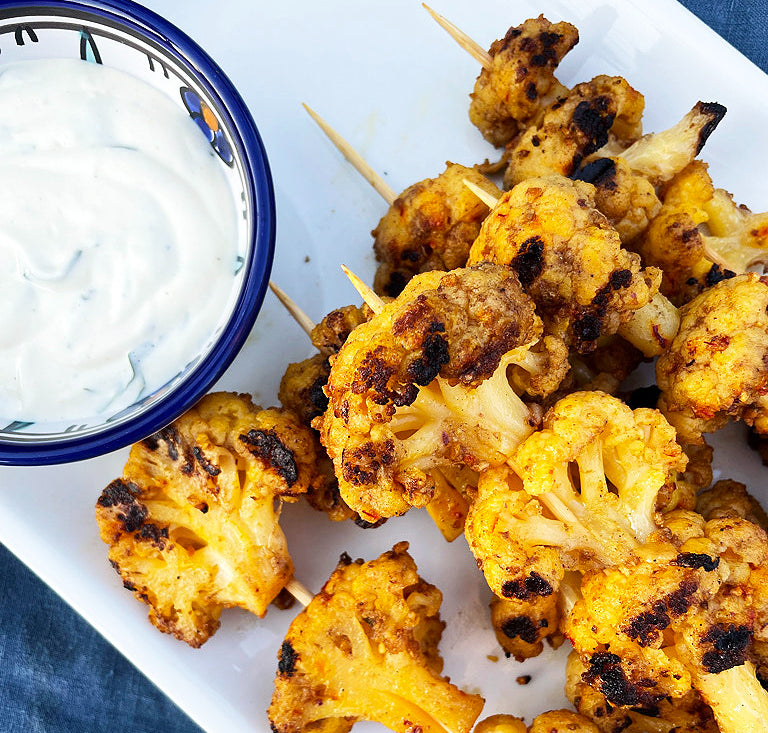 Roasted Cauliflower Skewers
Ingredients:
1 large, head of cauliflower
1/4 cup, il Fustino Arbequina Extra Virgin Olive Oil
1 tbsp, Rumi Spice Kabul Blend
1 tbsp, kosher salt
For the aioli:
1/2 cup, mayonnaise (or substitute with Greek Yogurt)
2 tbsp, lemon juice
1/4 cup, basil leaves –

 

chopped
salt and pepper –

 

to taste
Directions: 
Fill a large pot half way up with water and bring to a boil over high heat.
While water is boiling chop cauliflower head into 2 inch florets. Once the water is boiling drop the florets in and blanch for 3-4 minutes.
Drain florets and let cool.
Preheat oven to 450 degrees Fahrenheit. Toss the blanched florets in EVOO and spices. Let marinate for 20 minutes.
Stack 4-5 marinated florets onto each skewer.
Bake in the preheated oven for 45 minutes. Until cauliflower is brown and crisp.
While the skewers are baking combine all the aioli ingredients into a food processor and blend to combine.
Remove skewers from oven and serve with a side of the aioli. Enjoy!